Join Us For adMare's Lunch & Learn: Building Talent with Amplitude Ventures March 17, 2022
March 08 2022
The Amplitude Fellowship – Training the next generation of life science entrepreneurs
Are you an outstanding life science focused PhD candidate, post doc, MD, or inventor? Do you want to stay rooted in health and life science while exploring the dynamic and creative scientific impact you can have as an entrepreneur? The Amplitude Fellowship may be what you're looking for. The Amplitude Fellowship is a crucible where Canada's brightest health-focused PhD candidates, post docs and MDs – many of whom are also inventors – come together each summer to explore "what if" biotech concepts as the first step in creating novel, life-changing health science companies.
Please join us for a seminar and Q&A to learn more details about the program, the venture creation process at Amplitude and explore whether life science entrepreneurship is a path for you.
Amplitude Ventures is one of Canada's foremost life science ventures firms that creates, builds and grows the next generation of world leading companies. We've been involved in catalyzing and launching Canada's leading platform companies such as Notch Therapeutics, Deep Genomics, Radiant Biotherapeutics, Congruence Therapeutics and Gandeeva Therapeutics.
Join us for this "Lunch and Learn" session with Michael Mee, Principal at Amplitude Ventures on Thursday, March 17th, at 12 PM EST to learn about the Amplitude Fellowship.
Register for the event here: https://us02web.zoom.us/webinar/register/WN_0LZ8J0nLTX-6kaqccIHkWA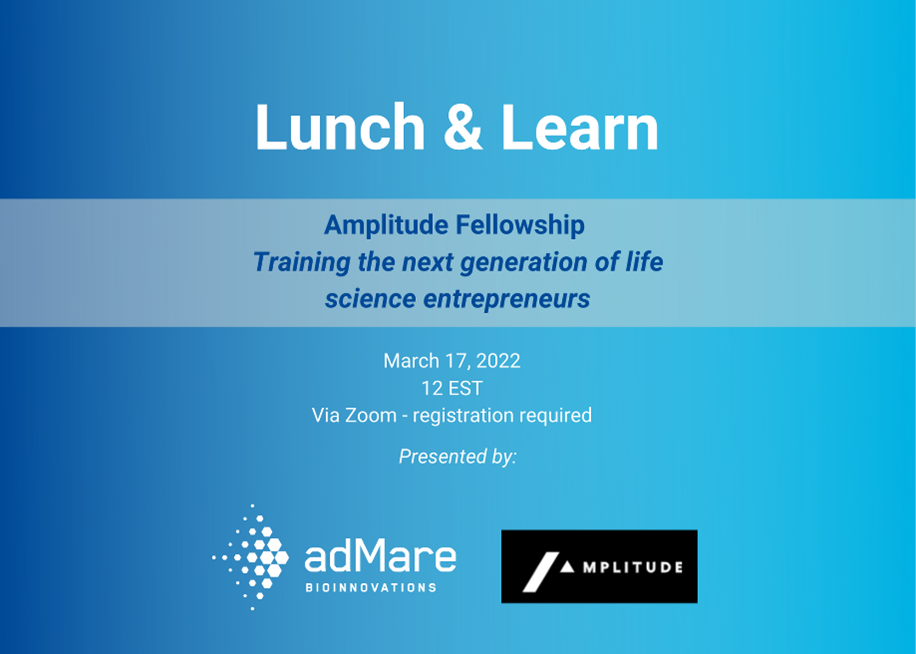 back