CPDC Funds Research at Simon Fraser University for Developing an LAT1-targeting Pet Tracer for Imaging Cancer
04 juillet 2023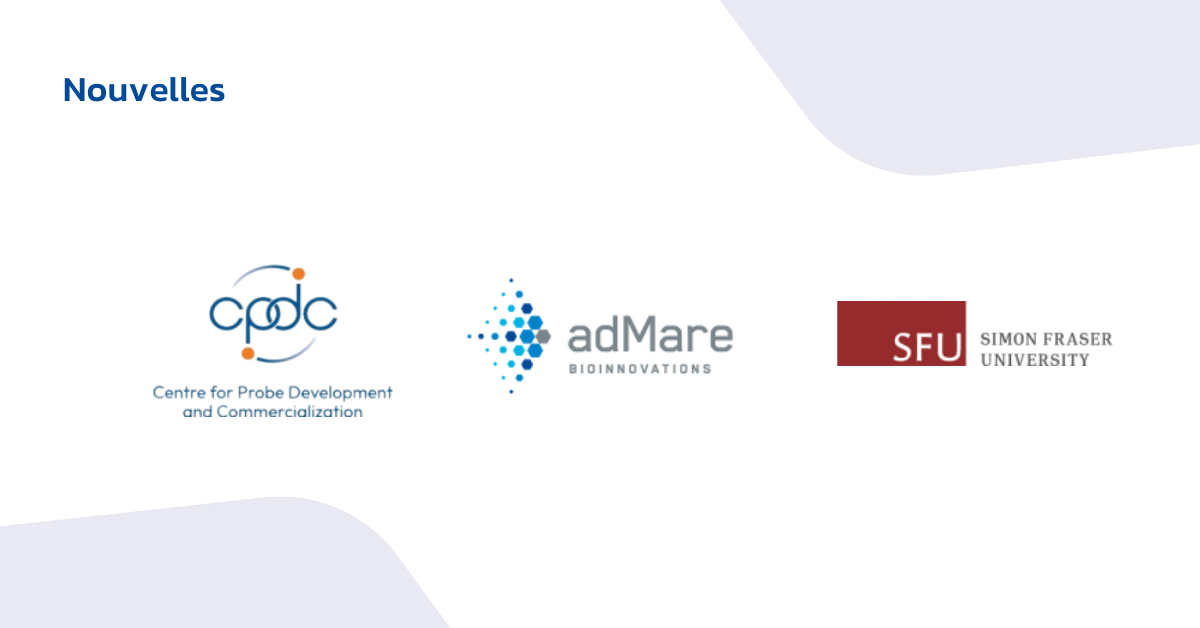 Cet article n'est disponible qu'en anglais
HAMILTON, ON and VANCOUVER, BC, July 4, 2023 – The Centre for Probe Development and Commercialization (CPDC) is proud to announce its funding of a new research project led by Dr. Robert Britton at Simon Fraser University (SFU) aimed at developing a novel positron emission tomography (PET) tracer that targets the L-type amino acid transporter 1 (LAT1) protein. The work will be performed in collaboration with Drs. Florian Kuchenbauer and François Bénard, both at BC Cancer, and Dr. Paul Schaffer at TRIUMF Innovations. The goal of this research is to validate a novel radiopharmaceutical that can be used for imaging various cancers.
LAT1 is an amino acid transporter that is known to be overexpressed in various solid tumours such as breast, prostate, lung, colorectal, and pancreatic cancers as well as hematological cancers like multiple myeloma. The development of a PET tracer that targets LAT1 could provide researchers and clinicians with an alternative to the gold standard, 18F-FDG PET tracer, for initial evaluation of abnormal cell growth in patients suspected of having cancer.
The project is set to begin immediately and is expected to last several months. CPDC and SFU hope to bring this novel tracer to the Canadian healthcare market for clinical use, as part of CPDC's CARI program (a CPDC and adMare BioInnovations joint initiative) that provides funding for commercial translation of radiopharmaceutical research performed by academic institutions or early-stage enterprises.
"This project originated with a fundamental discovery at SFU focused on selectively adding fluorine atoms to drug molecules. With the support of outstanding collaborators at TRIUMF and BC Cancer, we are now advancing this technology to produce PET tracers for detection and treatment monitoring of cancers, highlighting the strengths and synergies in the BC Biotechnology sectors," says Dr. Britton.
"adMare is thrilled to support such pioneering research in the field of radiotherapeutics," said Amie Phinney, Senior Director of Partnerships at adMare BioInnovations. "This marks the second project we're supporting through the CARI alliance, and we're excited to see the positive impact this innovative research will have on the Canadian life sciences ecosystem, ultimately bringing new radiopharmaceutical treatments to patients in need."
"LAT1-specific diagnostics represent an exciting new generation of PET agents which should provide clinicians with earlier and clearer images of serious cancers, including bone and brain tumours, which can be difficult to diagnose with 18F -FDG," said Owen Roberts, CEO of CPDC. "This collaboration with Dr. Britton's lab on LAT1 as a target for PET tracers represents a fantastic opportunity for CPDC to work with another great Canadian research team."
About CPDC
CPDC is a "not-for-profit" corporation founded in 2008 to advance probe (chemical agents that will carry medical isotopes to targets in the body) discovery, development and clinical research, and provide a reliable supply of radiopharmaceuticals. In the past 15 years, CPDC has created four Canadian commercial entities that have advanced the availability of radiopharmaceuticals to the Canadian medical community. CPDC's mission is to be a global leader in the radiopharmaceutical industry dedicated to transforming patient's lives by advancing high quality drugs for the diagnosis and treatment of diseases. CPDC's self-funding business model will continue to identify and advance critical radiopharmaceuticals to meet the needs of Canadian patients and physicians.
Learn more at www.cpdc.ca.
About adMare BioInnovations
With a strong track record of globally competitive scientific discovery, Canadian life sciences are primed to lead the world. To make this a reality, adMare BioInnovations uses its scientific and commercial expertise, specialized R&D infrastructure, and seed capital to build strong life sciences companies, develop robust ecosystems, and foster industry-ready talent. It re-invests its returns into the Canadian industry to ensure its long-term sustainability. adMare currently has 29 portfolio companies that have attracted $2.3 billion of risk capital, have a combined value of $4 billion, and have created over 1,000 jobs in Canada.
For more information, please go to www.admarebio.com.
About Simon Fraser University
As Canada's engaged university, SFU works with communities, organizations and partners to create, share and embrace knowledge that improves life and generates real change. We deliver a world-class education with lifelong value that shapes change-makers, visionaries, and problem- solvers. We connect research and innovation to entrepreneurship and industry to deliver sustainable, relevant solutions to today's problems. With campuses in British Columbia's three largest cities—Vancouver, Burnaby and Surrey—SFU has eight faculties that deliver 364 undergraduate degree programs and 149 graduate degree programs to more than 37,000 students. The university now boasts more than 180,000 alumni residing in 145+ countries.
https://www.sfu.ca/about/who-we-are.html
Retour à la liste des nouvelles