adMare Appoints Patricia Gauthier to the Board of Directors
September 20 2022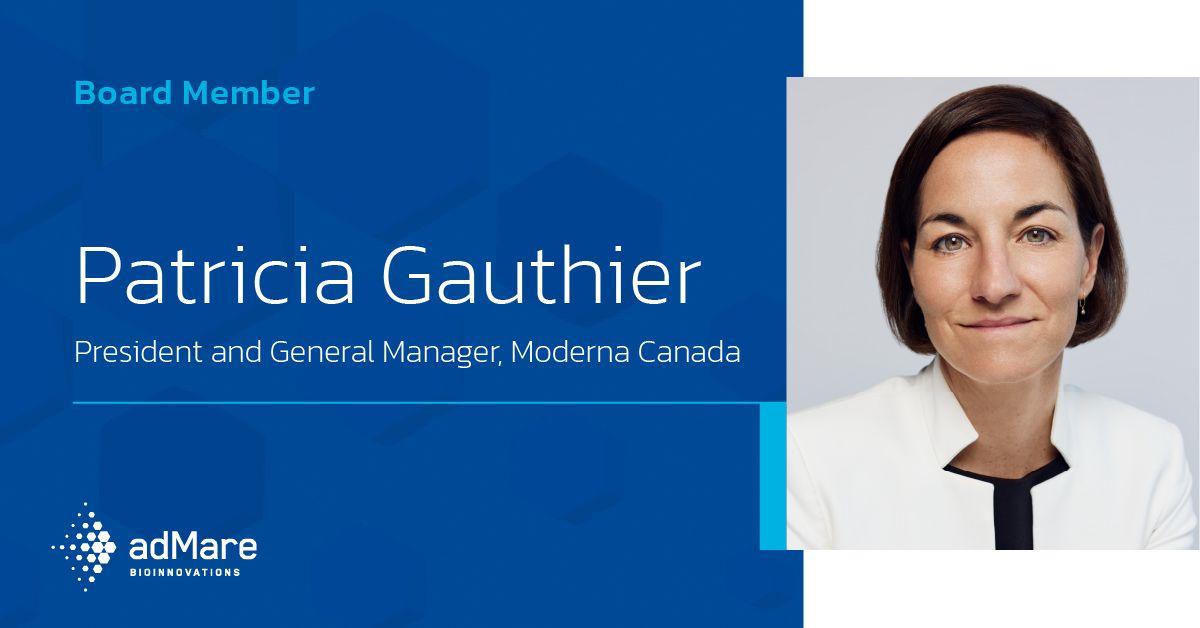 September 20, 2022 - adMare BioInnovations welcomes Patricia Gauthier, President and General Manager of Moderna Canada, as the newest member of its Board of Directors. Patricia brings to adMare a wealth of leadership experience in global pharma and biotech.
"It's a great privilege to have Ms. Gauthier's innovating thinking, experience, and expertise in commercializing health innovations on our board," said Gordon C. McCauley, President & CEO of adMare. "We're looking forward to the strategic insights she will bring to help us continue to build strong and sustainable life science companies, strengthen our ecosystems, and develop talent across the country."
Ms. Gauthier joined Moderna Canada in 2020 to lead the delivery of COVID-19 vaccines, secure long-term supply, and establish a biomanufacturing facility in Canada. Prior to this role, Patricia Gauthier spent 12 years with GSK as Head of Vaccines Business and Head of Government Affairs and Market Access.
Ms. Gauthier previously worked as a lawyer with McCarthy Tetrault, is a member of the Bar of Quebec, and earned an MBA from HEC Montreal. Now a resident of Toronto for over a decade, Patricia works closely with organizations rethinking innovation, such as the Creative Destruction Lab.
About adMare
adMare's Vision is Canadian life sciences leading the world. We are on a mission to realize this vision by building companies, building ecosystems and building talent – and a thriving industry from sea to sea. Our 25+ portfolio companies have attracted more than $1.4 billion of investment, have a combined value of over $3 billion, and employ more than 900 Canadians. The adMare Academy has trained more than 260 alumni – 95% of whom are employed in the Canadian life sciences industry.

For additional information, please contact:
Anie Perrault, VP, Communications & Public Affairs
aperrault@admarebio.com
450-522-0615

back