adMare Appoints Travis McCready to the Board of Directors
October 20 2022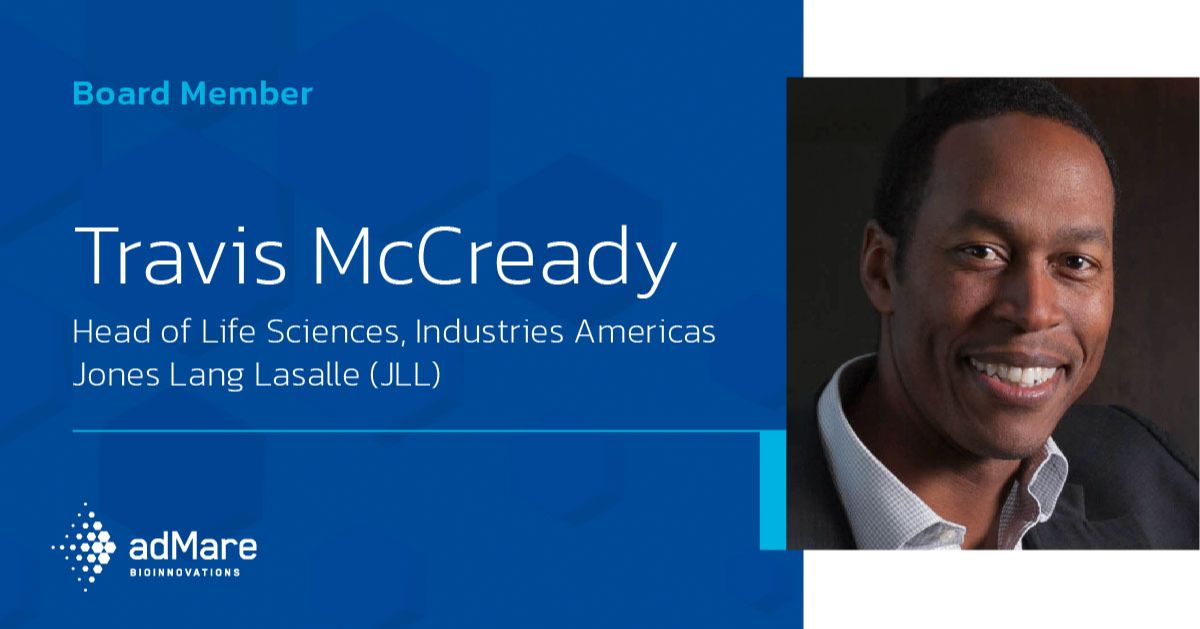 October 20, 2022 - adMare BioInnovations is pleased to welcome Travis McCready, Head of Life Sciences, Industries Americas, at Jones Lang Lasalle (JLL), as a new member of its Board of Directors. With more than 25 years of experience leading public, private, and nonprofit ventures, as well as being actively involved in Massachusetts' life science ecosystem, Travis' perspective on the industry will be a strong asset for adMare.

"Travis' expertise in ecosystem development and in providing support to life science companies will be invaluable for adMare's progress," said Gordon C. McCauley, President & CEO of adMare. "His deep knowledge of the North American life sciences ecosystem will give us strategic insights to continue to build strong and sustainable life science companies, strengthen our ecosystems, and develop talent here in Canada."

Mr. McCready joined Jones Lang Lasalle (JLL), one of the largest commercial real estate advisories in the world, in 2020, where he leads a multi-country platform that includes brokerage, capital markets, project management, consulting & advisory, and valuation services for life sciences companies, developers and investors. He is also a member of JLL's Innovation Districts Practice, helping plan, build and finance innovation districts all over North America and Chair of their Global Life Sciences Advisory Board.

Prior to this role, Mr. McCready was the President & CEO of the $1.6 billion life sciences funding agency, Massachusetts Life Sciences Center, whose mission is to encourage innovation through investments in science and business, accelerate the commercialization of promising treatments and strengthen Massachusetts' life sciences ecosystem.

Mr. McCready remains active in the life sciences community serving on the boards of the global business accelerator MassChallenge, the global life sciences business enabler Nucleate, and Wentworth Institute of Technology in Boston. He also serves in advisory capacities at Harvard University, MIT, and Johns Hopkins University. No stranger to public service, Travis has served on the Economic Development Planning Council under three Massachusetts governors and has been appointed to state and national initiatives ranging from the arts to advanced manufacturing. Mr. McCready received his B.A. in Philosophy from Yale University, and his J.D. from the University of Iowa.

About adMare
With a wealth of globally-competitive scientific discovery, Canada is primed to lead the life sciences world. To make this a reality, at adMare BioInnovations, we use our scientific and commercial expertise, specialized R&D infrastructure, and seed capital to build strong life sciences companies, robust ecosystems and industry-ready talent — and re-invest our returns back into the Canadian industry to ensure it is sustained for the long-term Our 28 portfolio companies have attracted more than $1.4 billion of investment, have a combined value of over $3 billion, and employ more than 1000 Canadians. As part of our commitment to build talent, we have created the adMare Academy, dedicated to providing the specialized training required to foster the next generation of highly qualified personnel who will drive the growth of Canadian life science companies. The adMare Academy has trained more than 500 alumni – 95% of whom are employed in the Canadian life sciences industry.
For additional information, please contact:
Anie Perrault, VP, Communications & Public Affairs
aperrault@admarebio.com
450-522-0615

back