adMare BioInnovations and District 3 Innovation partner to provide science-based Canadian startups more cohesive support to grow into industry leaders
November 02 2021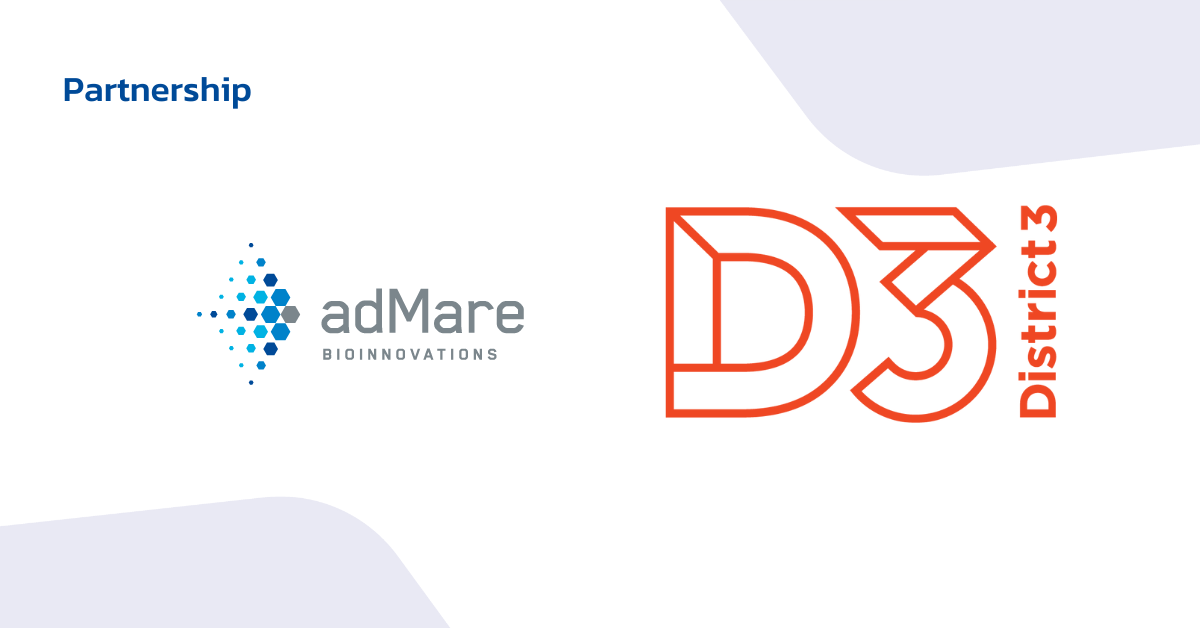 MONTREAL, Quebec – November 2, 2021: District 3 Innovation Hub, an early-stage startup incubator located at Concordia University, and adMare BioInnovations, a Canadian life sciences leader that builds the industry from sea to sea, are pleased to announce an official partnership to build Canada's life sciences ecosystem by helping emerging life sciences startups scale up faster for global impact.
adMare BioInnovations will support District 3 Innovation's early-stage startups by guiding them into adMare's programs and providing access to their in-house industry experts. Once an early-stage startup is ready, this already established connection to adMare will ease the transition as they move to the next stages of company development.
"Concordia University's District 3 Innovation Hub plays an important role in bringing stakeholders together and advancing new made-in-Canada innovations and companies. We are delighted to enter into this formal partnership, working together to build upon Quebec and Canada's long history of life sciences successes," states Dr. Mounia Azzi, Vice President, Program Development and Partnerships, adMare BioInnovations. "As destinations for scientific and business expertise, R&D infrastructure, and investment capital, District 3 and adMare have a shared goal of building strong new Canadian life sciences companies that can grow to be world-leading anchors."
Access to adMare's resources supports District 3's startups' ability to build on their expert research and knowledge.
"adMare BioInnovations is an excellent partner in District 3 Innovation's life science ecosystem. Together, we will support the development of new ways of thinking that significantly affect the way we create pharmaceuticals, address food issues, and source energy and protect the planet," says Maggie Bywater, Lead Bio Stream coach, District 3 Innovation Hub.
Cura Therapeutics, Molecular Forecaster and Modelis are all examples of highly promising startups that have accelerated their journey through District 3 as well as via adMare's Accelerate Quebec program – receiving one-on-one coaching, funding, global expansion support, and access to world-class wet and dry lab facilities to help make their mark on the national industry.
"Being part of a vibrant biotech community and having access to both material and intellectual resources is invaluable for early-stage biotech company success," states Collin Horner, Co-Founder and Director of Business Development, Cura Therapeutics. "The by-product enables the acceleration of our preclinical development, increases our runway, and allows for more rapid team expansion."
About District 3 Innovation Hub
District 3 Innovation Hub and the District 3 Bio Stream helps early-stage startups leverage bioengineering and biomanufacturing to accelerate their progress and augment their commercialization potential. Founders build a sustainable startup with global impact through bio-specific programs with access to Concordia's world-class BioHub and Genome Foundry facilities to build on their expert research and knowledge. Access one-on-one coaching, funding opportunities support, and a broader network of local and global experts and partners with in-depth knowledge and a proven track record in bio-innovation. The Bio Stream at District 3 supports teams working in biopharma, agri-food, sustainable technologies, including cleantech and biomaterials.
About adMare BioInnovations
With a wealth of scientific discovery, Canada is primed to be a global leader in life sciences. To make this a reality, adMare uses its commercial and scientific expertise, infrastructure, and investment capital to build new companies, robust ecosystems and industry-ready talent – and re-invests its returns back into the Canadian industry to ensure it is sustained and thrives for the long-term. Our 25+ portfolio companies have attracted more than $1.4 billion of investment, have a combined value of over $3 billion, and employ more than 900 Canadians. The adMare Academy has trained more than 260 alumni – 95% of whom are employed in the Canadian life sciences industry.
back