adMare Bioinnovations and PRiME Next-Generation Precision Medicine Collaborate to Translate Academic Research into Life Changing Therapeutics
February 15 2023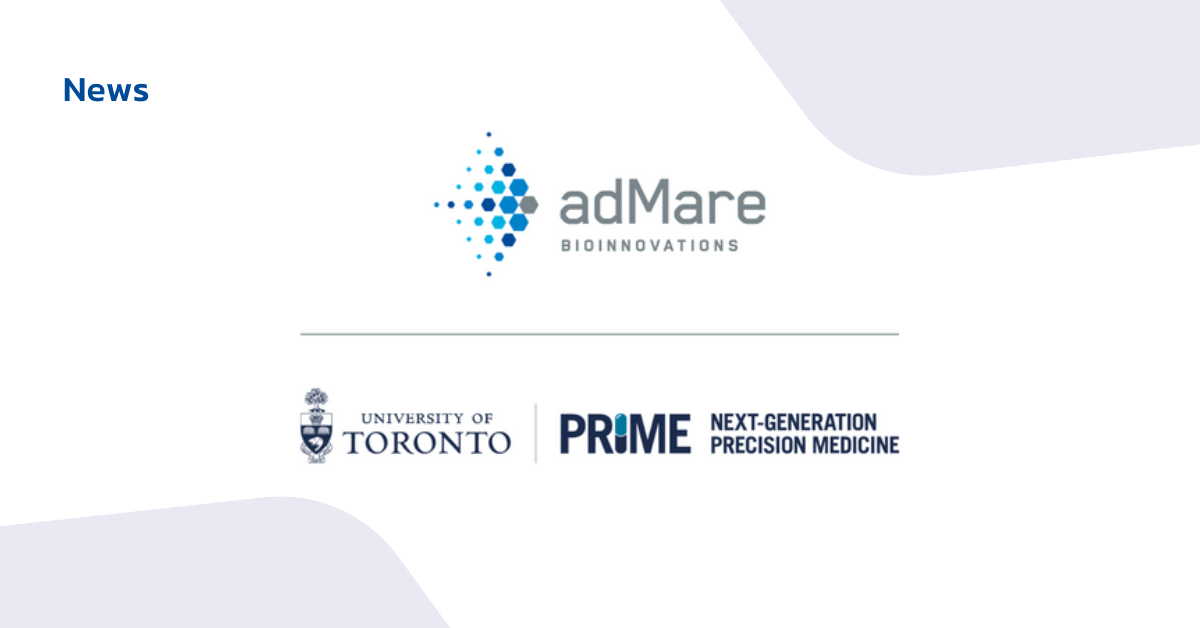 Toronto, ON (February 15, 2023) - adMare BioInnovations (adMare) and PRiME Next-Generation Precision Medicine (PRiME), an Institutional Strategic Initiative at the University of Toronto, are pleased to announce their new partnership to support the building of new Canadian life science companies and therapeutic products through the advancement of precision medicine research and commercialization.

Based at the University of Toronto's Leslie Dan Faculty of Pharmacy, PRiME brings together world-class scientists, engineers, and innovators across the Toronto ecosystem to tackle unmet needs in drug discovery, diagnostics, and disease biology. Through this partnership, adMare will work together with PRiME and University of Toronto's Innovation and Partnerships Office (IPO) to identify innovative research and early technologies made across the university that have the potential to be collaboratively translated into new therapeutic products and other novel health innovations.

"This partnership between PRiME and adMare is an important part of PRiME's expanded mandate to support researchers in taking the early steps to commercialization that are essential to allow research advances to reach the clinic and benefit patients," said Dr. Carolyn Cummins, co-Director of PRiME. "Establishing this close relationship with adMare will enhance opportunities for PRiME investigators and trainees to grow as entrepreneurs."

adMare and PRiME are also delighted to announce that a new collaborative R&D partnership has already emerged between the two organizations. Dr. Rebecca Laposa's research lab and adMare are currently working together to generate and co-develop novel small molecule therapeutics that block key metabolic cell processes specifically in cancer cells as a potential therapeutic.

"Our partnership with adMare's deep expertise and resources has been tremendous for accelerating this project," said Dr. Laposa, a researcher with PRiME and a faculty member in the Department of Pharmacology and Toxicology at the Temerty Faculty of Medicine. "This exciting work gives us the opportunity to advance biomedical discoveries to the next step in drug development."

"At adMare, we're elated with this partnership with PRiME, which will allow us to engage earlier and more closely with researchers who are taking promising approaches to drug discovery, therapeutics and technology," said Dr. Claudio Sturino, adMare's Senior Director of Chemistry. "Through this partnership, adMare is providing specific industry expertise to accelerate the commercial development of Dr. Laposa's innovative therapeutic approach, that has great potential to improve outcomes for cancer patients. It's been very exciting to see our teams working together to further advance the research born in Dr. Laposa's lab."

About adMare
With a strong track record of globally competitive scientific discovery, Canadian life sciences are primed to lead the world. To make this a reality, adMare BioInnovations uses its scientific and commercial expertise, specialized R&D infrastructure, and seed capital to build strong life sciences companies, develop robust ecosystems, and foster industry-ready talent. It re-invests its returns into the Canadian industry to ensure its long-term sustainability. adMare currently has 28 portfolio companies that have attracted $1.4 billion of risk capital, have a combined value of $3 billion, and have created over 1,000 jobs in Canada. For more information, please go to www.admarebio.com

About PRiME
PRiME Next-Generation Precision Medicine is a community of world-class scientists, engineers and innovators at the University of Toronto and Affiliated Institutions that tackles unmet needs in drug discovery, diagnostics and disease biology. With an inter-disciplinary approach that goes beyond genomics and mutational profiling, PRiME is an accelerator of new discoveries and novel solutions that will deliver on the promise of Precision Medicine.

About the Leslie Dan Faculty of Pharmacy, University of Toronto
The Leslie Dan Faculty of Pharmacy at the University of Toronto is Canada's top-ranked faculty of pharmacy, offering cutting-edge undergraduate and graduate programs. We are globally recognized for impactful pharmaceutical sciences research and fostering expert and innovative clinical practice. Our scientific research focuses on the role of pharmacists in the health care system, and the full scope of drug discovery and delivery. We advance education programs that develop leaders in science and clinical practice and work to strengthen the link between research, education, and patient care.
For additional information, please contact:
Amie Phinney, Senior Director of Partnership
adMare BioInnovations
aphinney@admarebio.com

Sarah De La Rue, Director of Strategy & Partnerships
PRiME Next-Generation Precision Medicine
Sarah.DeLaRue@utoronto.ca

back