adMare BioInnovations Announces a Strong Cohort for Its Academy's Executive Institute 2022-2023 Program
October 05 2022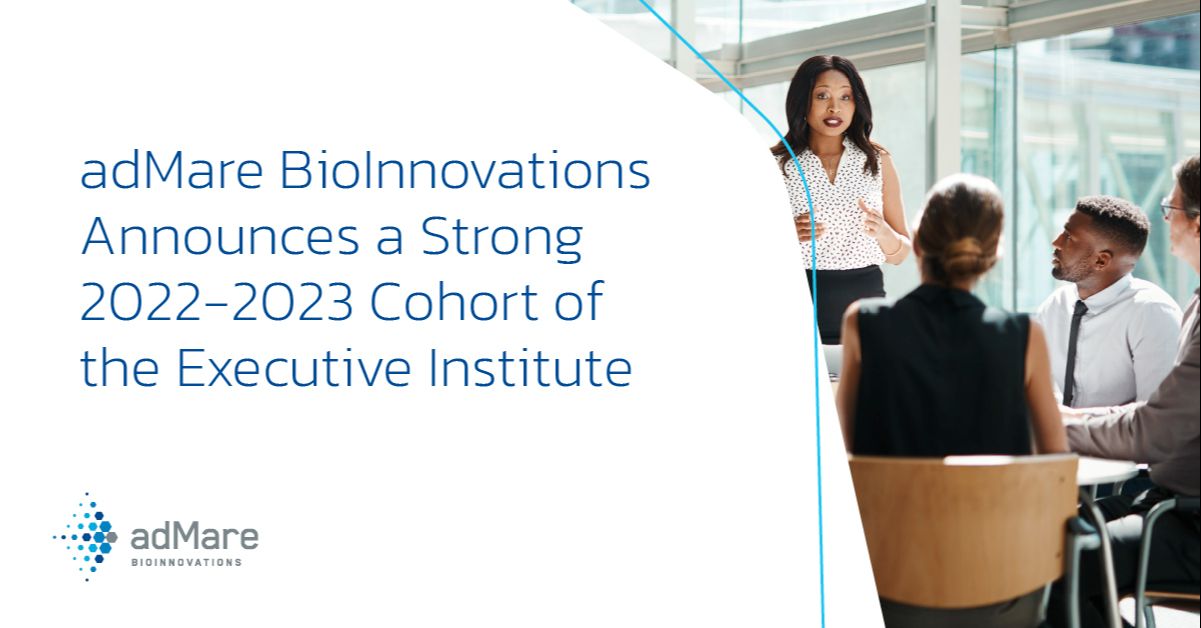 Vancouver, BC, Montreal, QC and Toronto, ON (October 5, 2022) – adMare BioInnovations (adMare) is pleased to announce that 22 participants representing a wide range of life sciences enterprises from across the country were selected to join Cohort V of the adMare Academy Executive Institute.
adMare builds life sciences companies, ecosystems, and talent to drive the growth of the Canadian life sciences industry into a sustainable and world-leader sector. The adMare Academy offers unique and substantive programs for highly qualified personnel, from undergraduates through to senior executives. The Executive Institute, a custom-designed program, has been widely recognized for its contribution to developing leadership capacity in the Canadian life sciences sector. Over 4 previous cohorts, the program has helped develop 67 leaders, with numerous alumni successfully leading their organizations through tremendous growth periods and achieving commercial successes.
adMare recognizes that diversity is Canada's strength and ensures that adMare Academy programs help address the gender gap within leadership positions and build opportunities for underrepresented groups. The Executive Institute program received a record number of applications of outstanding quality this year, with 22 remarkable persons selected for the 2022-2023 program.
The members of Cohort V of the Executive Institute are:
Jumai Abioye, Director, Technology & Development, Northern RNA Inc., Calgary, AB
Heather Arbuckle, Director, Operations, Stryker Canada, Hamilton, ON
Gregory Block, Senior Vice President Corporate Development, Notch Therapeutics, Vancouver, BC
Diane Brown, Director, Medical and Scientific Affairs, FORUS Therapeutics, Toronto, ON
Jason Burch, Vice President, Drug Discovery Strategy, Ventus Therapeutics, Montréal, QC
Eric Campeau, Vice President of Translational Research, Thryv Therapeutics, Laval, QC
Nathalie Chauret, Executive Director, Drug Development, BELLUS Health, Montréal, QC
Jennifer Cox, Senior Director, Chinook Therapeutics, Vancouver, BC
Shawn DeLong, Vice President & General Manager, Biologics Operations, BioVectra, Halifax, NS
Amol Deshpande, Senior Director Health Sciences, MaRSDD, Toronto, ON
Akeem Gardner, Chief Executive Officer, Canurta Inc., Mississauga, ON
Joanne Hulme, Vice President Head of R&D, Radiant Biotherapeutics, Toronto, ON
Catalina Lopez-Correa, Chief Scientific Officer, Genome Canada, Vancouver, BC
Frances Lasowski, Chief Executive Officer, 20/20 OptimEyes Technologies, Hamilton, ON
Leslie Madden, Senior Director, Regulatory Sciences, Moderna Biopharma Canada, Toronto, ON
Christine Martens, Vice President Science & Technology, Axelys, Montréal, QC
Dana Matzen, Vice President of Business & Corporate Development, IntelGenx, Montréal, QC
Jocelyn Milburn, Director, Innovation Projects Directorate, Life Sciences and Manufacturing Branch, Innovation, Science and Economic Development Canada, Government of Canada, Ottawa, ON
Lise Munsie, Vice President, iPSC Technology Platform, CCRM, Toronto, ON
Josh Pottel, Chief Executive Officer, Molecular Forecaster, Montréal, QC
Michael Riedel, Vice President, Quality , STEMCELL Technologies, Vancouver, BC
Sonia Trépanier, Vice President Product Development, Medicago, Québec, QC
"Our team works hard to provide a personalized program, attentive to the unique needs and aspirations of each participant," said Kristy Lonergan, Senior Director of the adMare Academy. "We are pleased to have such an incredibly well-rounded and talented cohort embark on this program journey. The participants themselves are the strength of the program because they learn and benefit from the experience of each other."
Cohort V participants come from five different provinces, have a variety of functional responsibilities, and are engaged in various types and sizes of life sciences organizations.
About adMare BioInnovations
With a wealth of globally-competitive scientific discovery, Canada is primed to lead the life sciences world. To make this a reality, at adMare BioInnovations, we use our scientific and commercial expertise, specialized R&D infrastructure, and seed capital to build strong life sciences companies, robust ecosystems and industry-ready talent — and re-invest our returns back into the Canadian industry to ensure it is sustained for the long-term. As part of our commitment to build talent, we have created the adMare Academy, dedicated to providing the specialized training required to foster the next generation of highly qualified personnel who will drive the growth of Canadian life science companies.
Learn more at www.admarebio.com
To learn more about the adMare Academy's Executive Institute, reach out to our team via training@admarebio.com or visit our website at www.admarebio.com/en/talent
back