adMare BioInnovations launches the BioInnovation Scientist (BIS) Program: Foundations and invites early-career science professionals to apply to be part of the inaugural cohort
March 27 2023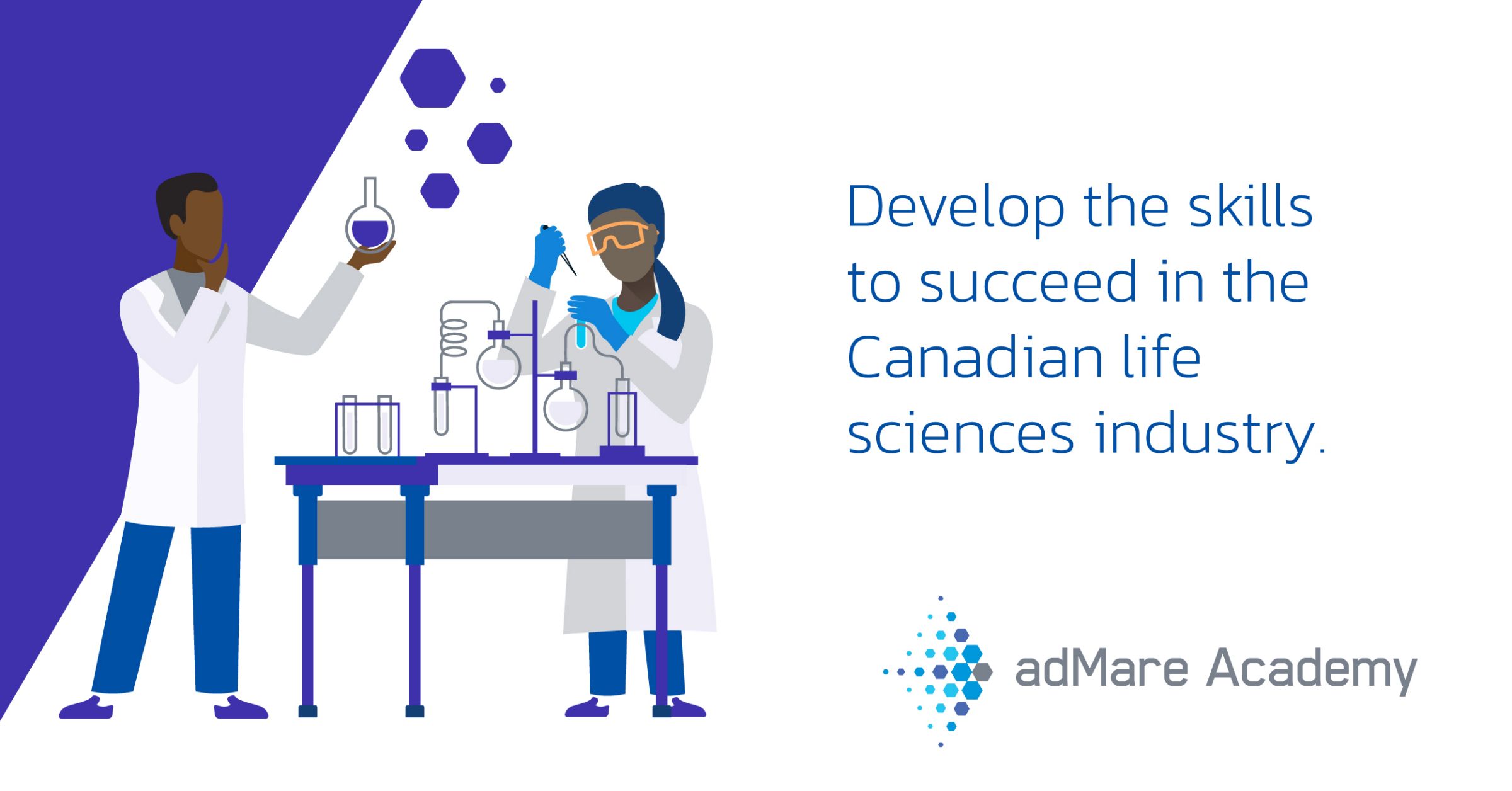 Vancouver (BC), Montreal (QC) and Toronto (ON) (March 27, 2023) - The adMare Academy is proud to launch the BioInnovation Scientist (BIS) Program: Foundations. This online, cohort-based program will provide early-career scientists with fundamental knowledge in therapeutics development while simultaneously building their professional skills to succeed in the Canadian life sciences industry.
This national program will bring trainees together as a cohort, enhancing participant experience and facilitating peer network building. The 8-week online program is structured into four modules that introduce early-career science professionals to the world of therapeutics discovery, development, and commercialization. The program covers important topics such as intellectual property, the high risk/high reward nature of the industry, and the importance of incorporating inclusion, diversity, equity, and accessibility principles into therapeutics development.
Learners will benefit from live online discussion sessions with industry experts and "real world" practical activities that enable participants to reinforce and deepen their learning from the online modules as well as develop and strengthen their business acumen and professional skills.
The BIS Program: Foundations is open to scientists possessing at least a BSc. or equivalent degree who are either newly employed in industry or working/training in academia, with a view to transition to commercial organizations. Applicants must reside in Canada and apply before the April 18th deadline using this link.
"The adMare Academy has a successful track record of supporting academic-to-industry career transitions. The BIS Program: Foundations delivers on our objective to offer high value, high impact programming to develop the personnel needed to create and support a robust, and resilient Canadian life science industry," stated Dr. Ann Meyer, Director, BIS Program.
Click here to learn more on the BIS program
About adMare BioInnovations
With a wealth of globally-competitive scientific discovery, Canada is primed to lead the life sciences world. To make this a reality, at adMare BioInnovations, we use our scientific and commercial expertise, specialized R&D infrastructure, and seed capital to build strong life sciences companies, robust ecosystems and industry-ready talent — and re-invest our returns back into the Canadian industry to ensure it is sustained for the long-term. As part of our commitment to build talent, we have created the adMare Academy, dedicated to providing the specialized training required to foster the next generation of highly qualified personnel who will drive the growth of Canadian life science companies. The adMare Academy has trained more than 500 alumni — 95% of whom are employed in the life sciences industry.
back