The adMare Institute Examines the Critical Role of Anchor Companies in Building Globally Competitive Life Sciences Innovation Ecosystems
November 21 2023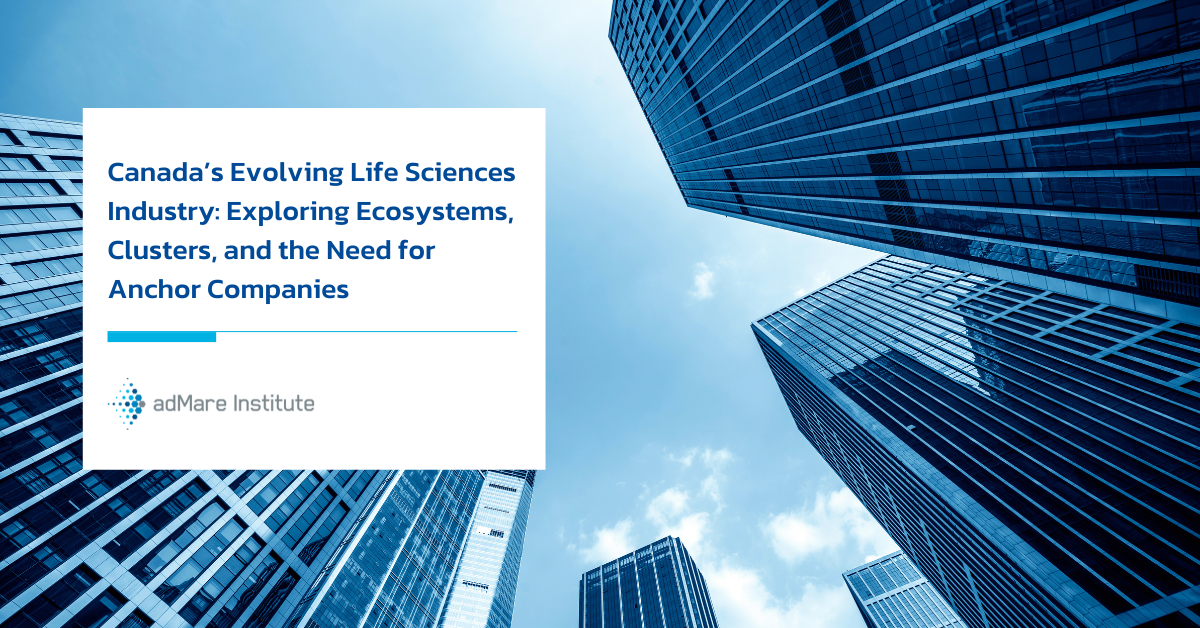 Vancouver (BC), Toronto (ON), and Montreal (QC) (November 21, 2023) - The adMare Institute released today the findings of its first white paper, considering the critical factors required to build a thriving life sciences industry and the essential role played by anchor companies.
Created in June 2023 by adMare BioInnovations, the adMare Institute focuses on addressing the current and emerging health and life science policy challenges faced by Canadians and their governments.
"Canadian life sciences can lead the world. The key to that leadership is honestly and objectively analyzing the data to understand critical factors that drive innovation, and having genuine conversations about public policy. With this first white paper, the adMare Institute seeks to provide the sector and stakeholders across Canada the impartial, balanced, and data-based analysis that must be the basis for that dialogue," said Gordon C. McCauley, President & CEO of adMare BioInnovations.
The report, Canada's Evolving Life Sciences Industry: Exploring Ecosystems, Clusters, and the Need for Anchor Companies, is based on a comprehensive review of current published literature and data, and it concludes that at the core of a healthy industry are innovation clusters and anchor companies. Key conclusions of the analysis include:
The presence of anchor companies within a cluster creates important competitive advantages for the sector as a whole.
Anchor companies have a pivotal role in the emergence and maturation of innovation clusters.
A company must nurture a deliberate and intentional mindset to become an anchor from the early stages of its evolution.
No anchor companies currently exist in the Canadian life sciences industry.
"This research highlights the advantages of building anchor companies, which are currently missing in Canada's leading life science clusters," said McCauley. "It also underscores the importance of supporting all components of the innovation ecosystem to ensure a comprehensive approach."
The adMare Institute published this report to initiate an industry-wide conversation about how to build a stronger life sciences industry with robust worldwide leadership.
To view the entire report and explore its findings, please click here.
Learn more about the adMare Institute: www.admarebio.com/en/admare-institute.
-30-
Media Contact
Mounia Azzi
Vice President, Corporate Development
adMare BioInnovations
mazzi@admarebio.com
About adMare BioInnovations
With a strong track record of globally-competitive scientific discovery, Canadian life sciences are primed to lead the world. To make this a reality, adMare BioInnovations uses its scientific and commercial expertise, specialized R&D infrastructure, and seed capital to build strong life sciences companies, develop robust ecosystems, and foster industry-ready talent. It re-invests its returns into the Canadian industry to ensure its long-term sustainability. adMare currently has 29 portfolio companies that have attracted $2.3 billion of risk capital, have a combined value of $4 billion, and have created over 1,000 jobs in Canada. For more information, please go to www.admarebio.com.
back