adMare's Company Co-Creation Model - A Pioneering Approach in Canadian Life Sciences Industry
May 17 2023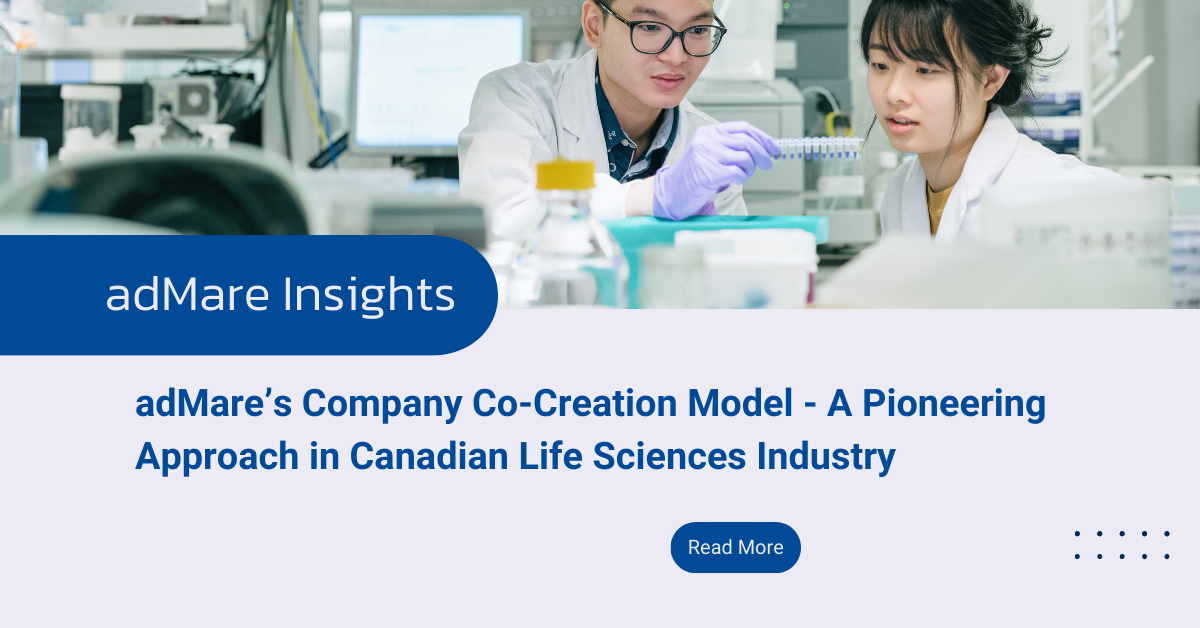 Canadian academic science labs have long been known for producing some of the world's most innovative and high-quality research, with groundbreaking discoveries made at universities across the country. These findings serve as the backbone of the medicine that ultimately reaches patients, improving their health and quality of life. However, for academic research to be translated into real-world solutions, it must first be transformed into novel therapeutic products by biotechnology companies.
This is where the challenge lies. While academic researchers are well-equipped to conduct rigorous scientific work, they are often not trained in drug discovery and development, nor in how to start and lead a company. The process of validating therapeutic targets and advancing discoveries towards drug development milestones and tangible products requires specific expertise beyond scientific skills. Entrepreneurs in this field must also navigate regulatory, intellectual property, legal, and commercial considerations.
Traditional venture development models, such as incubators and accelerators operated by government, academia, and industry, have been established across the globe to capture the potential of the life sciences industry. However, a recent comprehensive analysis comparing the impact of 96 different venture development programs on the success of 419 US-based nanotechnology start-ups in biotechnology, materials, medical devices, pharmaceutical, and energy sectors, found that although participating in a program may provide a success signal to VC firms, none of the incubator/accelerator offerings (beyond office space) clearly enhanced the investment-readiness of participating companies.
In recent years, the Venture studio model, also known as Company builder, Venture builder, or Venture co-founder models, has gained in popularity and impact. In this approach, organizations partner with co-founders early to provide intensive support that encompasses access to domain expertise and infrastructure, capital, and supportive business functions (legal, human resources, finance/fundraising). This type of integrated partnership between a domain expert and a bio-entrepreneur accelerates technology development toward market needs while building experienced management teams to launch new ventures.
"This model has been a key instrument in the success of academic researchers who have used this set-up to translate their discoveries into products. This collaborative model provides an entrepreneurial path to technical experts such as biomedical researchers without taking on the full burden of product development and commercialization. It has been an amazing experience to witness both the speed and robustness of the advances made when Canadian scientists partner with adMare's experts," says Joseph Mancini, Vice President, Innovation – Biological Sciences at adMare.
The Venture studio model is most familiar in the tech sector, where development timeframes are shorter, but selected firms have also been very impactful by applying this model in life sciences. These include Flagship Pioneering, Atlas Ventures, Third Rock, 5AM (4:59 Initiative), and RA Capital (Raven Program).
adMare's company co-creation model is a compelling Canadian example of the Studio model, where adMare's intensive resources are deployed and deeply engaged across multiple domains to rapidly advance towards an investable technology, with the goal of co-founding a new company. Under the guidance of seasoned biopharma executives, adMare actively searches for technologies across Canada with strong health impact and commercialization potential. In partnership with academic innovators, adMare develops therapeutic development plans and commercial strategies designed to rapidly mature new technologies. With a deep scientific bench of more than 60 scientists, adMare can quickly and flexibly deploy stage-specific resources across projects. This ensures that each stage of the process is driven by the most qualified domain experts (i.e., medicinal chemists, pharmacologist, toxicologist) and is integrated across disciplines to optimize the speed of execution. In addition to integrated domain expertise, adMare's approach overcomes many of the business challenges encountered in new venture building by fluidly providing access to business infrastructure, talent, and capital that is supported by a cross-function team of experienced business executives (i.e., managers, attorneys, accounting/finance and venture investors). Given these efficiencies, the Studio model is well-suited to increasing the feasibility of developing a broad range of potentially disruptive technologies to improve the lives of patients. These advantages were critical to adMare's success in building several portfolio companies.

In conclusion, adMare's company co-Creation model provides a compelling alternative to traditional venture development models, enabling company formation to become more efficient and scalable and providing a competitive edge to advance the commercial development of Canadian life science innovations. With its focus on intense resource deployment, deep engagement across multiple domains, and national presence, adMare is well-positioned to rapidly advance towards an investable technology and co-found new companies.

back