MaRS partners with adMare BioInnovations to develop Therapeutics Accelerator
February 27 2023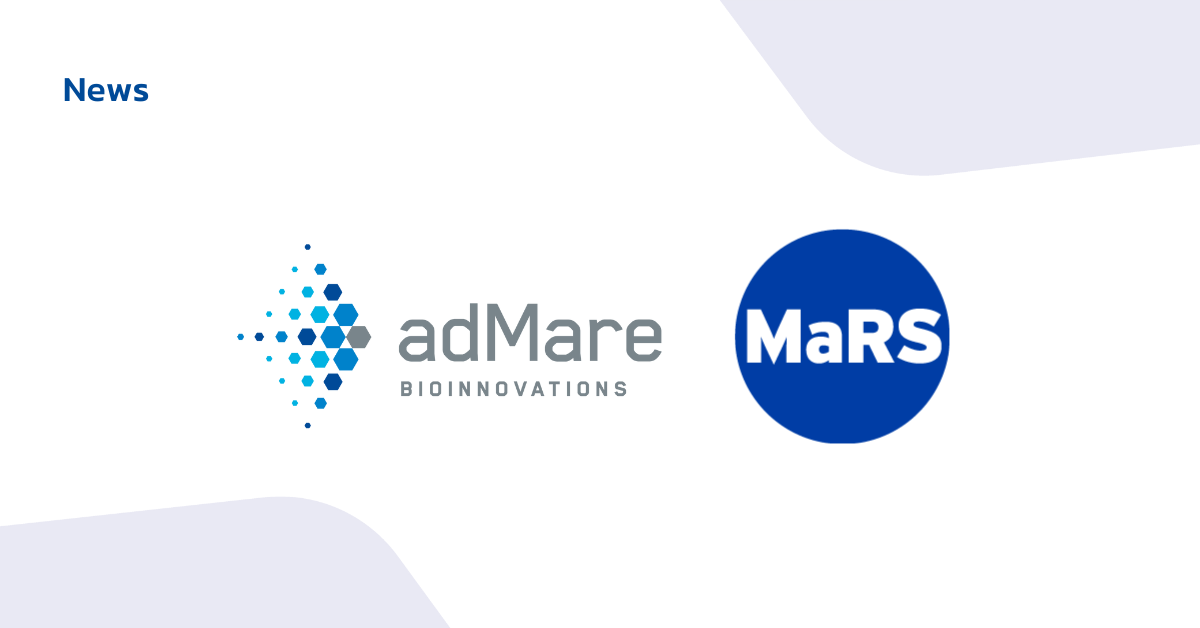 TORONTO, February 27, 2023 – MaRS Discovery District and adMare BioInnovations recently announced the MaRS-adMare Therapeutics Accelerator. The program is the latest addition to the adMare National Tx Accelerator and will be located in the MaRS building in downtown Toronto.
The MaRS-adMare Therapeutics Accelerator will provide all the resources to support the growth of early-stage therapeutics ventures: co-working wet lab space with access to investors and advisory talent for science and commercialization. The goal of the program will be to help early-stage Canadian biotech ventures overcome fundamental barriers to success and achieve key milestones that lead to funding.
"The roots exist here for a thriving biotech ecosystem anchored by world-class academic and clinical research institutions, IP, capital markets, and ecosystem partners that form vibrant and active health networks already in place," said Yung Wu, CEO, MaRS Discovery District. "The MaRS-adMare Therapeutics Accelerator will provide the missing links: access to commercialization expertise and mentorship, shared infrastructure and capital to prepare a universe of our most promising biotech companies to scale up in Canada and form the foundation of a national biotech industry with global impact."
The program builds on the success of the adMare National Accelerator with Regional Partners, with Innovation Centres already in Montreal and Vancouver. As part of the largest innovation hub in North America and a destination for diverse talent, the Toronto-based accelerator will provide much needed support for some of Canada's most promising therapeutics startups.
"With over 100 business and science professionals focused on commercial drug development at our Toronto, Vancouver and Montreal centres we are excited to bring all that we've learned to this new program," said Gordon McCauley, President & CEO, adMare BioInnovations. "The Ontario ecosystem represents a major innovation hub in Canadian biotechnology and adMare is proud to partner with MaRS to support the growth of these ventures and contribute to making Canada a worldwide life science leader. The fit is clear."
Services offered by the the MaRS-adMare Therapeutics Accelerator include:
Scientific and regulatory guidance for pre-clinical and clinical studies,
Transformational technologies that can accelerate the commercialization process for translational research and IP;
Coaching and expertise in business development and IP strategy,
Advanced personalized training and team building,
Access to a digital community platform, C-suite executives, industry partners and investors,
Access to financial support for ventures to scale and achieve growth-related milestones,
Access to state-of-the-art wet laboratory facilities in the MaRS Centre.
The application process for the first cohort of therapeutic ventures is already underway and will close in March 2023. Five ventures will be chosen in the first round and are expected to move into the new space later in the spring.
Learn more about the MaRS-adMare Therapeutics Accelerator.
About MaRS
MaRS is North America's largest urban innovation hub. A registered non-profit, MaRS supports high-growth startups and scale-ups tackling key issues in health, cleantech, fintech and other sectors. In addition, MaRS convenes all members of the tech ecosystem to drive breakthrough discoveries, grow the economy and make an impact by solving real problems for real people — in Canada and around the world.
About adMare BioInnovations
With a wealth of globally competitive scientific discovery, Canada is primed to lead the life sciences world. To make this a reality, at adMare BioInnovations, we use our scientific and commercial expertise, specialized R&D infrastructure, and seed capital to build strong life sciences companies, robust ecosystems and industry-ready talent — and re-invest our returns back into the Canadian industry to ensure it is sustained for the long term. As part of our commitment to build talent, we have created the adMare Academy, dedicated to providing the specialized training required to foster the next generation of highly qualified personnel who will drive the growth of Canadian life science companies.
Media Contact
media@marsdd.com
back