New strategy positions B.C. as a global hub for life sciences
April 17 2023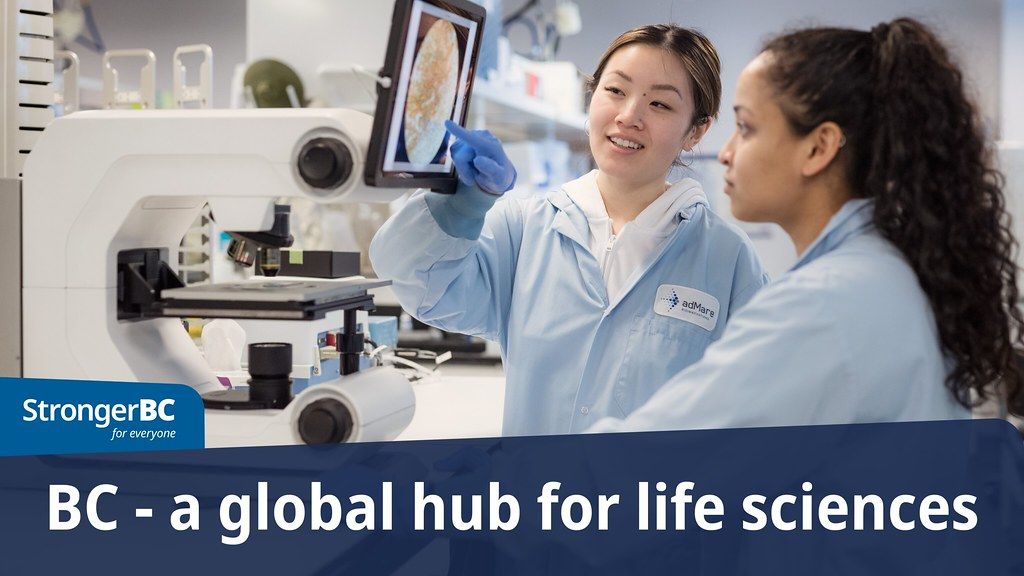 Vancouver, BC (April 17, 2023) - More innovative companies will have opportunities to grow and create high-paying jobs while advancing health and pandemic preparedness at home and internationally through a new made-in-B.C. Life Sciences and Biomanufacturing Strategy.
"With the launch of the B.C. Life Sciences and Biomanufacturing Strategy, we are building on B.C.'s reputation as a place where we value and invest in innovation – because it makes life better for people, and cultivates a sustainable economy for everyone," said Brenda Bailey, Minister of Jobs, Economic Development and Innovation. "Through the StrongerBC Economic Plan, we are maximizing our competitive advantage with our world-class talent and the innovators, entrepreneurs and anchor companies that will create high-quality jobs for British Columbians."
As part of the StrongerBC Economic Plan, the new B.C. Life Sciences and Biomanufacturing Strategy provides five pillars to secure B.C.'s position as a leading global hub for life sciences and biomanufacturing, and to develop commercial-scale biopharmaceutical and medical manufacturing.
Virtually every COVID-19 vaccine candidate that reached late-stage development in 2020 used components that were initiated, developed or manufactured by a B.C. company or scientist. This strategy will build on those and many other made-in-B.C. accomplishments.
The strategy outlines how the Province will capitalize on the industry value chain from discovery through to clinical trials and manufacturing by supporting targeted investments in people and infrastructure. To help grow innovative local companies, the Province is investing $10 million in a new wet lab facility with adMare Bioinnovations. The expanded operation will help grow early-stage, local biotech companies by providing access to turnkey-ready wet labs with cutting-edge equipment, as well as meeting and office space. A wet lab is a specific type of facility adapted for biotechnology and biopharmaceutical companies for the safe handling of chemicals and contaminants.
"British Columbia researchers and companies demonstrated their remarkable innovative capacity during the pandemic," said Gordon C. McCauley, president and CEO, adMare BioInnovations. "Literally billions of people around the world benefited from the strength of the B.C. life sciences ecosystem. This investment into new, flexible wet lab facilities will grow the life sciences sector, attract investment, and help ensure that the globally relevant companies of tomorrow can launch and scale in British Columbia."
The strategy outlines key actions developed in close consultation with industry and academia to help meet the challenges faced by life sciences businesses and to attract new talent and investment.
To address the skills shortage, B.C. announced the National Biomanufacturing Training Centre (NBTC) that will train new and existing professionals with industry-recognized skills and knowledge. The strategy will also expand B.C.'s clinical trials capacity to help keep more companies and their intellectual property anchored here, and build stronger connections between research and care, creating benefits in health, employment and new discoveries.
"The launch of the B.C. Life Sciences and Biomanufacturing Strategy is a significant step toward improving health care and patient outcomes by investing in clinical trials capacity," said Adrian Dix, Minister of Health. "By expanding B.C.'s clinical trials capacity, we are creating opportunities for more innovative companies to anchor and grow in B.C., which will benefit patients by increasing access to new treatments and therapies."
The Province will also collaborate with First Nations and municipalities to streamline access to light-industrial-zoned land and buildings for biomanufacturing activity, so more anchor companies will choose to make their home in B.C. or expand their existing operations here. Increased seamless co-ordination between researchers and industry will help ensure new discoveries can more quickly be turned into commercially profitable products and processes.
B.C.'s Life Sciences and Biomanufacturing Strategy is part of the StrongerBC Economic Plan, moving British Columbia forward by tackling the challenges of today, while growing an innovation economy that works for everyone.

Quick Facts:
The 2022 edition of B.C.'s Labour Market Outlook shows that 80% of one million job openings expected over the next 10 years will require post-secondary education and training.
The most in-demand jobs will be in the care economy and scientific and technical services sector, with an additional estimated 16,000 biomanufacturing workers needed in Canada by 2029, of which at least 3,400 will be needed in Metro Vancouver.
Construction of the NBTC is expected to be completed in December 2023, with delivery of training in 2024.
B.C. is home to Canada's largest biotechnology company, Stemcell Technologies; at least four of Canada's biotechnology companies with more than $1 billion in market capitalization; and StarFish Medical, Canada's largest medical device design, development and contract manufacturing company.

Learn More:
Learn about the B.C. Life Sciences and Biomanufacturing Strategy:
https://www2.gov.bc.ca/gov/content/governments/technology-innovation/life-sciences-biomanufacturing
Learn about adMare Bioinnovations: https://www.admarebio.com/en/
Learn about the StrongerBC Economic Plan: https://strongerbc.gov.bc.ca/plan

Media Contacts
Ministry of Jobs, Economic Development and Innovation Media Relations
778 587-4521
Mounia Azzi, Vice-president, Corporate Development, adMare BioInnovations
mazzi@admarebio.com
Read the original press release and more information:
https://news.gov.bc.ca/releases/2023JEDI0022-000540
back