The Canadian Alliance for Skills and Training in Life Sciences (CASTL) launches 2023 Short Course Calendar
December 19 2022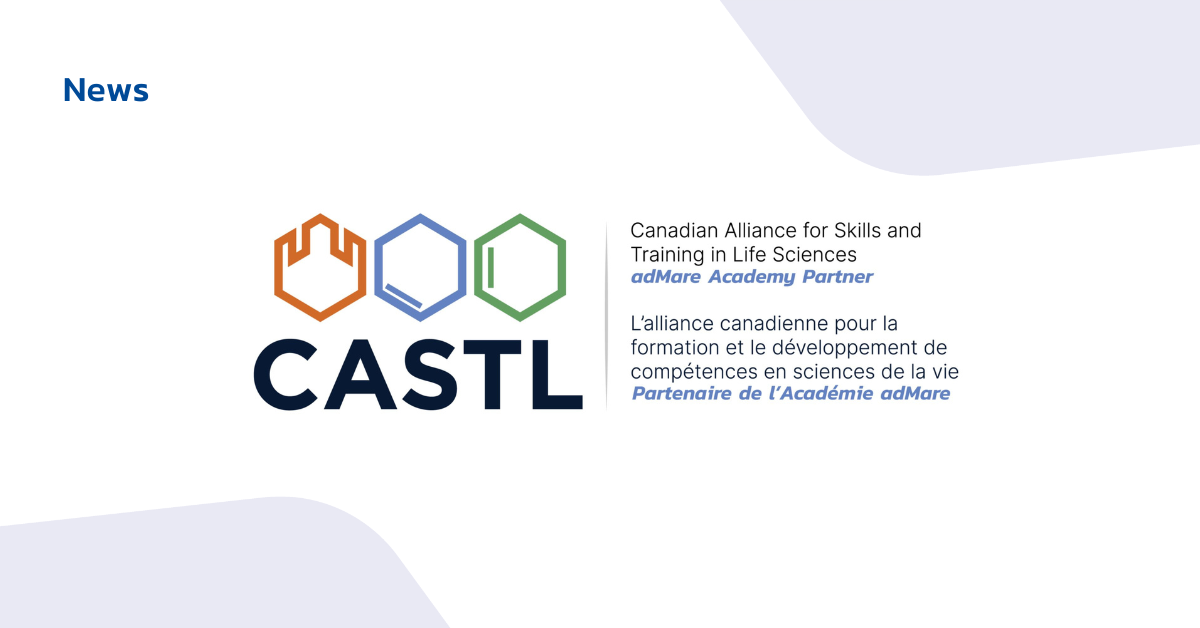 Charlottetown, PE (December 19, 2022) – The Canadian Alliance for Skills and Training in Life Sciences (CASTL), a national initiative to address the future skills needs of the fast-growing biomanufacturing sector, has launched its 2023 Short Course Calendar.
Delivered virtually and in-person at the new CASTL Biomanufacturing Training Facility in Charlottetown, Prince Edward Island, the instructor-led short courses cover all aspects of the biopharmaceutical manufacturing process.
The new training facility, which opened in October 2022, contains state-of-the-art pilot-scale bioprocessing equipment that allows trainees to gain practical skills that are immediately transferable to process scale-up and clean room environments. It is also equipped with laboratories and classroom spaces built to deliver the highest quality training to industry professionals.

Included in the 2023 short course calendar is CASTL's new Biopharmaceutical Manufacturing Onboarding Boot Camp, a 4.5-day hands-on training course introducing the necessary fundamental knowledge and practical operations needed to onboard new employees successfully and prepare them to navigate a biopharmaceutical manufacturing facility. It includes both hands-on practical training and theoretical knowledge covering good manufacturing practices (GMP), good documentation practices (GDP), gowning, aseptic techniques, and how to operate the common equipment for all jobs in a manufacturing environment.

"When a mistake happens on the job, the situation has real-world consequences, causing a risk to patient safety and costing companies valuable time and money", said Paul-Xavier Etter, CASTL Director of Technical Training. "When a mistake happens in the CASTL lab, that's where learning and growth happen. Trainees can go back to work feeling capable and confident."
CASTL 2023 short courses include:
"CASTL is thrilled to launch six introductory short courses for 2023", said Penny Walsh-McGuire, CASTL Executive Director. "These courses have been designed in response to industry needs and will be offered on a rotating basis throughout the year, giving employers flexibility as they determine their training and development plans."
CASTL trainees will receive a CASTL certificate of completion that can be held as part of their training records and presented as part of their professional development profile.
"As CASTL's national lead partner, adMare understands the value of creating a space where students can be trained on all aspects of the biopharmaceutical manufacturing process," added Kristy Lonergan, Senior Director, adMare Academy. "These instructor-led courses give students the crucial hands-on experience to develop their technical expertise and their confidence working in a lab environment, which will significantly increase the pool of highly-qualified talent in the Canadian life sciences sector."

Employers can combine and customize courses with bulk discounts available. To register or learn more, visit www.castlcanada.ca/short-courses or contact CASTL at info@castlcanada.ca
-30-
Media Contact
Chelsey Rogerson
Director of Communications and Marketing
CASTL
C: 902.213.7351
E: chelsey@castlcanada.ca

About CASTL
The Canadian Alliance for Skills and Training in Life Sciences (CASTL) is a first-of-its-kind partnership between academia, industry, and government to address the future skills needs of the Canadian life sciences sector. Specializing in biopharmaceutical manufacturing, CASTL delivers on the economic and sectoral demand for individuals who are work-ready to enter, thrive and meet the needs of the fast-growing Canadian biomanufacturing industry. CASTL is the exclusive provider of the National Institute for Bioprocessing Research and Training (NIBRT) licensed training programs in Canada. Based in Ireland, NIBRT develops and delivers state-of-the-art training and education programs for the world's leading biopharmaceutical manufacturing companies and partner academic institutions. CASTL is supported by National Lead Partner adMare Academy. The adMare Academy is dedicated to providing the specialized training required to foster the next generation of highly qualified personnel who will drive the growth of Canadian life science companies. www.castlcanada.ca
About adMare BioInnovations
With a wealth of globally competitive scientific discovery, Canada is primed to lead the life sciences world. To make this a reality, at adMare BioInnovations, we use our scientific and commercial expertise, specialized R&D infrastructure, and seed capital to build strong life sciences companies, robust ecosystems, and industry-ready talent — and re-invest our returns back into the Canadian industry to ensure it is sustained for the long-term. As part of our commitment to build talent, we have created the adMare Academy, dedicated to providing the specialized training required to foster the next generation of highly qualified personnel who will drive the growth of Canadian life science companies. www.admarebio.com
back