Unleashing Canada's Radiopharmaceutical Excellence
September 17 2020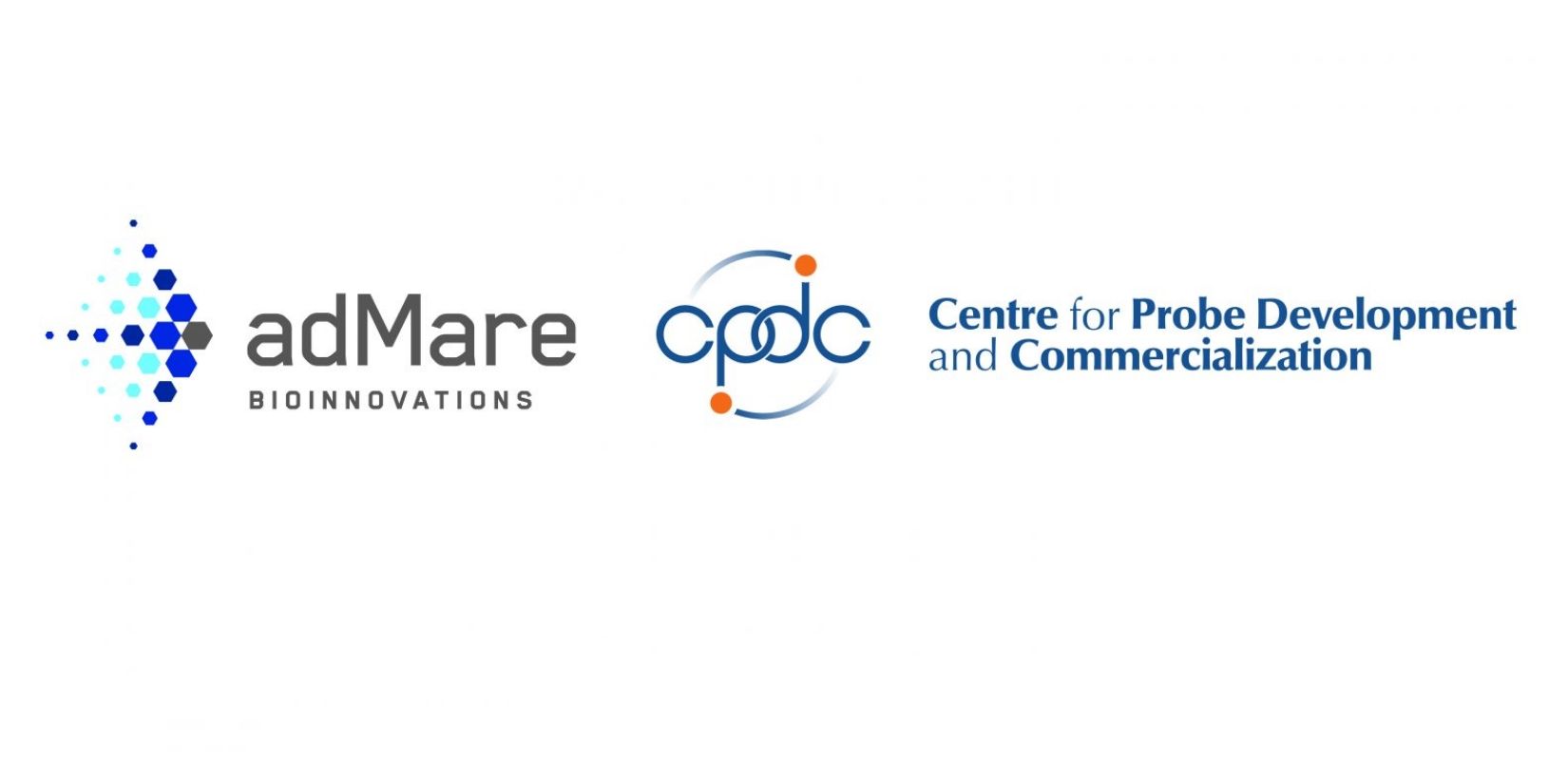 New Pan-Canadian Partnership Looks to Commercialize the Country's Most Promising Radiopharmaceutical Innovations
September 17, 2020: The Centre for Probe Development and Commercialization (CPDC) and adMare BioInnovations (adMare) are pleased to announce they have formed a new collaboration, "The CPDC-adMare Radiopharmaceutical Initiative (CARI)" to bring their respective resources together to advance an area of tremendous therapeutic and commercial potential in which Canada can gain a considerable global competitive advantage: radiopharmaceuticals. This field revolutionized precision medicine by the use of theranostics where targeted therapies are combined with diagnosis, treatment planning, drug delivery, and response assessment to improve cancer patient outcomes.
The objectives of CARI are for CPDC and adMare to seek out and uncover radiopharmaceutical opportunities arising from academic discoveries and early enterprises, establish rigorous drug development programs around selected opportunities, and drive the generation of proof-of-principle as well as other data supportive of the commercialization of new radiopharmaceutical assets.
Dr. Lana Janes, adMare Venture Partner commented, "Radiopharmaceuticals have shown tremendous promise for the treatment of cancers with significant unmet medical need; and with the strengths Canada holds in this area, we have an opportunity to be a world leader in bringing these novel therapeutics to patients. We look forward to working with both academic researchers and Canadian biotech companies to make this a reality."
"It's a very exciting prospect to be able to support emerging radiopharmaceutical opportunities across Canada. Leveraging existing platforms to support new radiopharmaceutical assets strengthens Canada's position as a global leader in radioisotope based health care technologies" stated Justyna Kelly, CPDC's Chief Executive Officer. "We look forward to working with adMare to enhance and accelerate emerging radiopharmaceuticals."
adMare and CDPC are both leading and critical organizations in the commercialization of Canadian health research, each with substantial world-class expertise to be brought to bear on this emerging area that can make a tremendous impact on the health of patients and the Canadian bioeconomy. By doing so, through CARI they are offering:
Academic researchers a pathway to advance their cutting-edge research;
Canadian biotech companies the resources they need to advance their pipelines and build corporate value;
New validated life science investment opportunities;
A tremendous opportunity for Canada to build a globally competitive advantage in an innovative new area; and
Potential new treatment options for cancer patients.
For more information on CARI and/or to explore potential collaborative drug development opportunities, please visit https://www.admarebio.com/collaborating-with-admare/cpdc-admare-radiopharmaceutical-initiative-cari/ .
-30-
About adMare BioInnovations
adMare BioInnovations is Canada's Global Life Sciences Venture, building the Canadian life sciences industry from sea to sea. We partner with leading academic researchers and biotech companies to advance commercially promising therapeutic innovations to create new companies of scale; and offer specialized scientific and commercial expertise, infrastructure and capital to help existing companies scale up. Our ~20 portfolio companies have attracted more than $1.15B of investment, and have a combined value of over $2.3B. For more information, visit https://www.admarebio.com/ or contact info@admarebio.com.
About The Centre for Probe Development and Commercialization (CPDC)
The Centre for Probe Development and Commercialization (CPDC) is a Centre of Excellence for Commercialization and Research (CECR) located at McMaster University in Hamilton, Ontario, Canada. CPDC is a private, not-for-profit company and global leader in the discovery, development and commercialization of next-generation radiopharmaceuticals that was created with the support of multiple stakeholders, including the Networks of Centres of Excellence (NCE), McMaster University and the Ontario Institute for Cancer Research (OICR). Since its foundation in 2008, CPDC has established a pipeline of products along with a robust and reliable global supply of innovative diagnostic and therapeutic radiopharmaceuticals used daily for the detection and treatment of human diseases such as cancer. For more information about CPDC, please visit: www.imagingprobes.ca or contact info@imagingprobes.ca.
For additional information, please contact:
Shirley Robinet
Communications Coordinator
(438) 728-3400
srobinet@admarebio.com
Ghadeer Shubassi
Business Development Manager
The Centre for Probe Development and Commercialization (CPDC)
(289) 683-0870
shubassi@imagingprobes.ca
back