adMare BioInnovations and MaRS Discovery District Welcome Inaugural Ontario Start-Ups to Therapeutics Accelerator Program
October 11 2023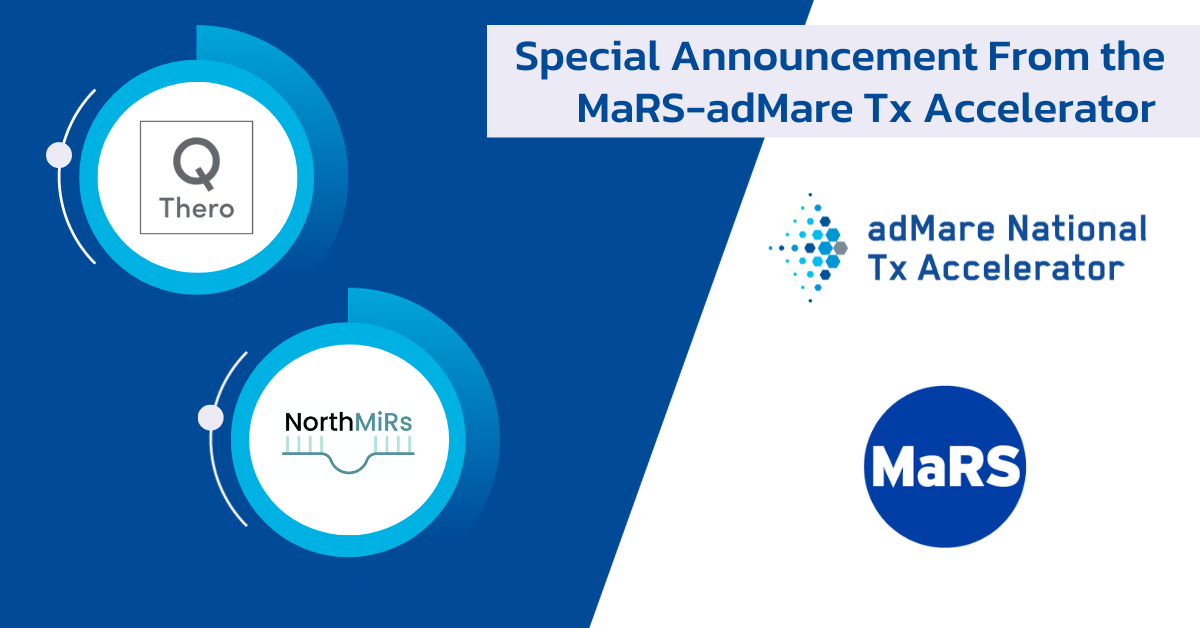 Toronto (ON) (October 11, 2023) – adMare BioInnovations (adMare) and MaRS Discovery District (MaRS) are pleased to welcome Quthero Canada and NorthMiRs as the first Ontario-based ventures in the MaRS-adMare Therapeutics (Tx) Accelerator.

"adMare is pleased to collaborate with MaRS Discovery District to support two promising early-stage therapeutic ventures in the Tx Accelerator," said Dr. Mounia Azzi, Vice-president of Corporate Development at adMare BioInnovations. "We are excited to join forces with MaRS to create a distinctive ecosystem for the development of novel therapeutics in Ontario and Canada. Building successful therapeutics companies requires access to expertise, facilities, and funding. We purposefully designed this accelerator to address the specific needs of early-stage Canadian ventures."

NorthMiRS and Quthero are two ventures developing innovative technologies derived from academic research originating from the University of Toronto and associated hospitals. NorthMiRs is an early-stage biotech venture started from a discovery made in the labs of Professors G. Walker and C. dos Santos. This preclinical stage venture, led by CEO Samantha McWhirter, is focusing on the development of novel therapeutics to treat sepsis and associated conditions.

Quthero Canada, an early-stage life science venture led by Professor M. Radisic, is based on a technology developed at the University of Toronto and University Health Network. Quthero has a patented Q-peptide derived from Angiopoietin-1 that can help restore the balance to orchestrate aging, healing, and regeneration of heart tissue.

The ventures will receive direct support, including — scientific, IP, regulatory, and business development guidance, as well as access to capital and fundraising. They will be mentored by experts within the drug development landscape to meet key goals and increase their valuations.
"MaRS is pleased to provide shared, multi-tenant wet laboratory facilities and office space, as well as expertise to help very early-stage, preclinical therapeutic ventures have a meaningful impact," added Dr. Amol Deshpande, Senior Director of Health Sciences at MaRS Discovery District. "MaRS, in partnership with adMare BioInnovations, offers a full suite of tools, resources, and partners needed to accelerate venture growth."

Quthero and NorthMiRS are the first companies entering the MaRS-adMare Tx Accelerator. New ventures will now be admitted on a rolling basis as their applications are received and reviewed. Ventures interested in accessing the services are invited to apply to join the MaRS-adMare Tx Accelerator. Learn more here.

-30-

Media Contacts
Mounia Azzi
Vice President, Corporate Development
adMare BioInnovations
mazzi@admarebio.com

media@marsdd.com

About adMare BioInnovations
With a strong track record of globally-competitive scientific discovery, Canadian life sciences are primed to lead the world. To make this a reality, adMare BioInnovations uses its scientific and commercial expertise, specialized R&D infrastructure, and seed capital to build strong life sciences companies, develop robust ecosystems, and foster industry-ready talent. It re-invests its returns into the Canadian industry to ensure its long-term sustainability. adMare currently has 29 portfolio companies that have attracted $2.3 billion of risk capital, have a combined value of $4 billion, and have created over 1,000 jobs in Canada. For more information, please go to www.admarebio.com.

About MaRS
MaRS is North America's largest urban innovation hub. A registered non-profit, MaRS supports high-growth startups and scale-ups tackling key issues in health, cleantech, fintech and other sectors. In addition, MaRS convenes all members of the tech ecosystem to drive breakthrough discoveries, grow the economy and make an impact by solving real problems for real people—in Canada and around the world.

back