Discover the Medical Isotope & Radiopharmaceutical Landscape in Canada
February 10 2021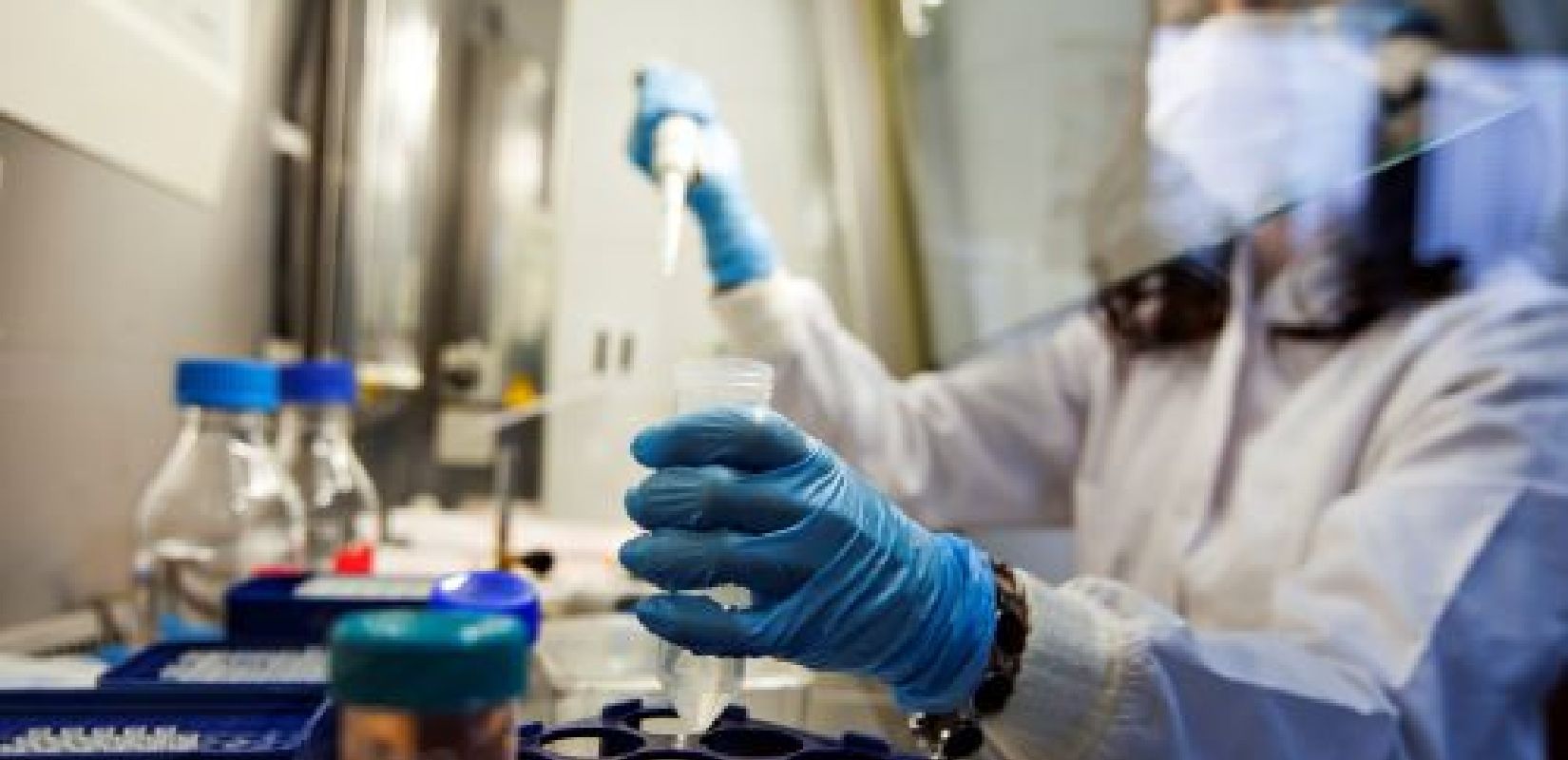 Did you know that Canada has been a global leader in the research, development and production of medical isotopes as well as radiopharmaceuticals for more than 60 years? Many people are unaware of Canadian role in this industry. However, several medical applications that are used widely today stemmed from Canadian nuclear isotope programs where much of the work has been focused on the diagnosis and treatment of cancer.
In the first blog post of our series, we explained the advantages of radiopharmaceuticals over traditional pharmaceuticals in cancer treatments. In this blog, we will provide an overview of the medical isotope and radiopharmaceutical landscape in Canada. Stay tuned for our last blog post highlighting the CPDC & adMare Radiopharmaceutical Initiative (CARI), and how it can be the path towards translating radiopharmaceutical discoveries to the clinic.
Quick Facts about Isotopes in Canada:
The Canadian Nuclear Safety Commission licenses the use and production of over 250 different isotopes in Canada.
According to the Canadian Medical imaging Inventory, there were 1,444,651 diagnostic imaging procedures in Canada during 2017.
Canada has a long and successful history of developing novel radiopharmaceuticals, with a track record of 62 Health Canada approved radiopharmaceuticals.
In 2018, the Canadian medical isotope market was estimated to be valued at ~$646.2 million CAD ($508.4 million USD) and is projected to increase to ~$1.176 billion CAD ($925.4 million USD) by 2032 at a compound annual growth rate (CAGR) of 12.7%.
This market is expanding due to the increasing demand for oncology treatments, new emerging market segments, and the improving reimbursement scenario regarding insurance coverage.
Additional key growth drivers of the Canadian medical isotopes include the aging population, continuing modernization of healthcare facilities, and growing demand from patients as well as doctors.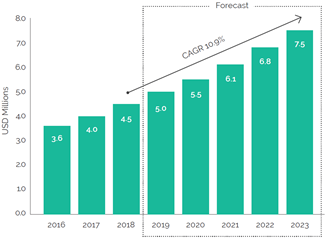 In particular, therapeutic applications of medical isotopes are quickly growing in use and will be likely drivers of market demand in the next few years. Lutetium-177 (Lu-177) is a beta-emitting medical isotope used in various targeted radionuclide therapy to destroy cancer cells while sparing healthy cells. In 2019, Lu-177 accounts for 16% of the beta emitters in the Canadian therapeutic product market. McMaster University nuclear reactor is the main source of Lu-177 supply in Canada. In September 2020, the Centre for Probe Development and Commercialization (CPDC) and Isotopia Molecular Imaging has entered into an agreement for the production and distribution of no-carrier-added Lu-177 in North America. Furthermore, ITM Medical Isotopes GmbH and Isogen signed a supply arrangement to provide Lu-177 using the Bruce Power reactors in Ontario, adding to the Canadian Lu-177 supply chain. Lu-177 demand is projected to increase at a CAGR of 10.9% over the 2018-23 forecast periods, due to the growing usage in cancer treatment and other diseases.
To ensure that Canada remains a world leader in medical isotopes and radiopharmaceuticals, the Canadian government continues to invest in cutting-edge research and facilities. In 2018, Prime Minister Justin Trudeau announced $10-million in federal funding for University of British Columbia to build a new hub for nuclear medicine, called the Institute for Advanced Medical Isotopes (IAMI) at TRIUMF (Canada's particle accelerator centre). The new building will house a particle accelerator, research facilities, equipment, laboratories, and office space allowing the creation of raw materials to clinical trial work of potential therapies take place in one location.
"The Institute for Advanced Medical Isotopes will be a state-of-the-art facility where industry leaders and academics can work together to push the boundaries of research and discover new ways to protect and improve our health," said Trudeau.
Translating Leading Canadian Research into a Promising National Industry: Fusion Pharmaceuticals & Abdera Therapeutics
Currently, many radiotherapeutics utilize radioisotopes that emit beta particles which causes small breaks in the cancer cell's DNA structure that can lead to cell death. Some cancers can resist the damage caused by beta particles; therefore, the elimination of cancerous growths can be inconsistent. Radioisotopes that emit alpha particles, such as actinium-225, are more energetic than beta particles and result in greater damage to the DNA of cancerous cells reducing the chance of resistance. In addition, beta particles can travel further than alpha particles; thus, there is a chance that the beta particles may damage healthy cells in the surrounding area.
Targeted alpha-particle therapy is currently gaining attention as one of the most rapidly growing and potentially transformative fields in nuclear medicine and oncology. Canadian companies such as Fusion Pharmaceuticals & Abdera Therapeutics are two examples of companies developing targeted alpha-particle therapy for cancer patients.
Fusion Pharmaceuticals started as the R&D department at CPDC and developed into a spin-out company in 2015 based in Hamilton, Ontario. [225Ac]-FPI-1434 is Fusion's lead clinical candidate where they utilized their Fast-Clear™ linker technology to link actinium-225, radioisotope emitting alpha particles, to an IGF-1R antibody which is a well-established tumour target found on various types of cancer cells. Currently, their lead clinical candidate is used in a Phase I clinical trial to investigate the safety, tolerability, pharmacokinetics, and preliminary anti-tumour activity in patients with advanced solid tumours.
"Alpha (particle)-emitting agents have the potential to eradicate even the most resistant types of cancers and unlike previous generations of therapeutic radiopharmaceuticals they can be administered in conventional cancer treatment facilities," said Dr. John Valliant, CEO of Fusion Pharmaceuticals and Professor at McMaster University.
In Dec 2020, Fusion Pharmaceuticals entered into a collaboration agreement with TRIUMF to help improve the actinium-225 supply in Canada. Under this agreement, Fusion will provide a financial investment enabling TRIUMF to upgrade their actinium-225 production infrastructure, allowing Fusion to have access to a reliable source of actinium-225 for their lead product.
Due to the clear advantages of targeted alpha-particle therapy over traditional treatments, commercial interests in their technology are increasing and as a result, Fusion has been successful in raising funds for their innovative research. Since inception Fusion raised ~$150 million USD and made a successful public debut in June 2020, pricing an IPO of 12.5 million shares at $17 each, raising gross proceeds of $212.5 million USD.
Abdera Therapeutics was launched by adMare BioInnovations, Canada's global life sciences venture, in partnership with industry leaders AbCellera, and some of the country's most successful scientist entrepreneurs just this month. Abdera is a precision oncology company developing novel next-generation targeted alpha therapies (TATs) for patients with relapsed, refractory and metastatic cancers. The seed financing of Abdera includes a total commitment of CAD $8 million; and Abdera will leverage AbCellera's antibody discovery platform to develop antibody-based TATs against nine (9) clinically-validated oncology targets. Under the agreement, AbCellera will receive equity and research payments and is eligible to receive downstream clinical and commercial milestone payments and royalties on net sales of products.
Dr. Lana Janes, adMare Venture Partner and Interim Abdera CEO commented, "In building Abdera, we identified the most promising early-stage technologies for this high-potential area of drug development together with a proven executive team. With Abdera's deep biologics and radiotherapeutics commercial experience, our founding partner AbCellera's leading antibody discovery platform, and the full force of the adMare enterprise behind us, we look forward to identifying therapies for patients without treatment options today."
Gordon C. McCauley, adMare President and CEO added, "The adMare team is proud to launch our third new well-funded company this fiscal year. Canada has already demonstrated its global leadership in radioisotope-based healthcare technologies, and we have unique infrastructure that provides a competitive advantage. We are ready to show why Canada will become a world leader in developing related novel therapeutics."
CARI
Do you have a project on radiopharmaceuticals? Click here to learn more and apply for The CPDC & adMare Radiopharmaceutical Initiative (CARI).
The objective of CARI is to seek out and uncover radiopharmaceutical opportunities arising from academic discoveries and early enterprises, establish rigorous drug development programs around selected opportunities, and drive the generation of proof-of-principle and other data supportive of the commercialization of new radiopharmaceutical assets.
Sources:
back